Want to go on your weekly shopping trip but you're worried about breaking the bank? Thousands, if not millions of Americans across the U.S. have the same exact worries. And if you're trying to factor in maintaining a healthy diet, finding affordable, nutritious foods could make things even more difficult.
But does that mean you should give up on staying healthy and opting for the cheaper items of questionable quality? Absolutely not, and here's why.
Costco has a selection of healthy items that cost under $10 that should be on any health-conscious buyer's shopping list. So the next time you're out shopping, consider visiting your nearest warehouse club as you can find hidden gems that are well worth it- just be careful not to get distracted! Stay away from the tubs of chocolate spread, snacks, and sugary sweets, no matter how attractive their price tags!
It's time to make shopping healthy!
Kirkland Signature Ground Saigon Cinnamon, $2.99 for 10.7 ounces
Generally speaking, buying spices from Costco is not a good idea. Overall, they sell too much, even though the prices may make their selection seem worth it. By the time you finish even half of the spices you've got, it's gone rancid. But we'll make an exception for cinnamon, especially for people who want to give up sugar.
If you have a serious sweet tooth problem, then swapping out your sugar for cinnamon is a great way to do so. You can use it in both sweet and savory meals for that added flavor. For the most part, you could use cinnamon for baked dishes, shakes, oatmeal, smoothies, and more.
For just $2.99, the 10.7 ounces Kirkland Signature Ground Saigon Cinnamon is a steal. If you've been looking for a sightly sweet and smokey cinnamon flavor then this one is for you. The more you'll incorporate it into your daily meals, the less you'll feel the need for sugar until, eventually, even the 10.7-ounce container won't feel like enough.
Earthbound Farms Organic Greens, $4.50 for 1 pound
Always making sure to add greens to your diet can get really expensive, especially if you're starting a new health journey and need to get used to vegetables for every meal. But we all know how difficult it is to find affordable, organic items. There aren't many on the market.
At Costco, you'll find 1 pound Earthbound Farms Organic Greens for just $4.50. This is a great option for those who want to enjoy healthy salads throughout the week while still having enough left over for delicious smoothies.
Our recommendation is to freeze around half of the container. Portion that half in zip-lock bags and use them later for smoothies. The fresh greens can be tossed in a salad or used with other main dishes.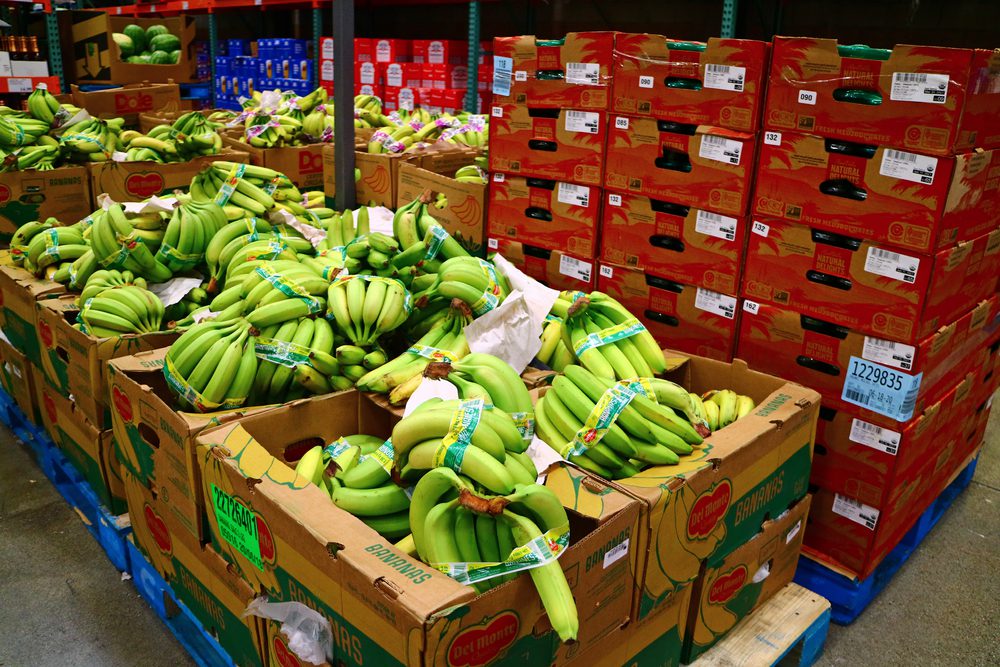 Organic Bananas, $2 for three pounds
Speaking of organic choices that won't cost an arm and a leg, Costco offers delicious organic bananas for $2 for three pounds. That's what we like to call a steal!
Let us remind you that bananas are incredibly versatile, so adding these to your cart every week should be a no-brainer. Use them for baked goods, oatmeal, and smoothies and we guarantee that you won't have any bananas left over, forgotten in your kitchen. Oh, but if you do, you can always use the extra-ripe ones for banana bread.
Though if these are the only affordable fruits lying around, you might want to look into alternative methods of incorporating them into your routine, otherwise your palette will eventually grow tired of them.
Silk Almond Milk, $7 for three half gallons
Looking for delicious non-dairy milk? Look no further than Costco, then. You can get three and a half gallons of Silk Almond Milk for just $7 or 64-ounce containers of non-dairy unsweetened vanilla almond milk also for less than $7. The same products cost a lot more at Target or Walmart, especially if you're not using coupons.
Again, use these for baking, oatmeal, smoothies for the best results (in our opinion) but you can also incorporate them into any recipe and they'll taste fantastic.
Costco also carries non-dairy milk by Kirkland, their brand, but these options usually cost a little more.
Cheerios, $6 for two
Some mornings you just need a good, old-fashioned bowl of cereal, even when you're trying to stay healthy. Well, plain Cheerios are arguably the healthiest you can reach for, from a mainstream brand, but they're usually pretty costly.
Not at Costco, though! They offer a two-box bundle for just under $6. This is especially good if you have kids but don't want to give them sugar-loaded cereal for breakfast every morning. And, hey, they're also great for adults!
You've got your milk, your cereal, sprinkle a little cinnamon on top and you've got breakfast figured out already. But if you still can't entirely give up on the Honey Nut Cheerios, don't worry, Costco also carries that variety too!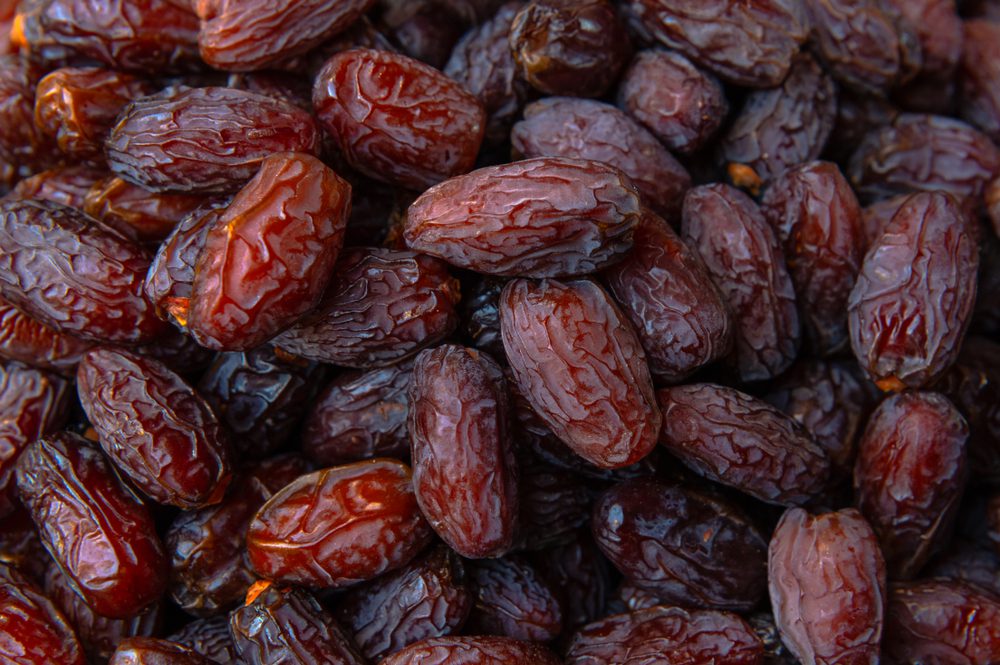 Organic Dates, $10 for 40 ounces
My honest opinion? Not enough people are buying dates. They're packed with fibers, natural sugars, and potassium so they make for the perfect sweet snack which can be incorporated into a plethora of recipes.
Head on over to the produce section and you could find 40 ounces for as little as $10. The Medjool are especially yummy as far as we're concerned, but if you're looking for a slightly better deal then we recommend Deglet Noor. These dates are organic and cost the same, but the package is slightly bigger.
My favorite dates snack? Enjoy them with Costco's Kirkland brand almond butter, you'll thank me later!
Kirkland Almond Butter, $7 for 27 ounces
What almond butter? Oh, the Kirkland Almond Butter that sells for $7 for 27 ounces! Versatile, delicious, and in bulk? Sign me up! This brand contains nothing but almonds, so you'll be avoiding extra oil, salt, and sugar!
You can use it as a healthy dressing when you combine it with other ingredients, spread it on a sandwich, or use it for your oatmeal or smoothies in addition to spreading it over dates for a healthy but sweet snack!
By the way, you can also make almond milk out of this stuff, all you have to do is blend it with some water!
Frozen Pineapple, $8.50 for five pounds (Delicious and Healthy!)
You can't go wrong when visiting Costco's frozen section. It's packed with healthy, high-quality goods that won't break the bank. We guarantee you'll find fruits and veggies that will become new favorites, at a good price.
But if we had to pick just one item, we're going to go with their frozen pineapple. $8.50 for five pounds? Yes, please! And don't think you'll sacrifice sweetness or flavor with this choice. It's easily one of the sweetest frozen options out there and you can also frequently find it for as little as $6.
The bags are also considerably bigger than the ones you'll find at Walmart for a much higher price. You know the drill- use this in baked goods, smoothies, and any other recipe that needs an added touch of sweetness!
But since you're already in the frozen section, check you Costco's selection of frozen organic strawberries, raspberries, and mango, in addition to their frozen asparagus, wild blueberries, and Kirkland mixed vegetables, which also cost less than $10.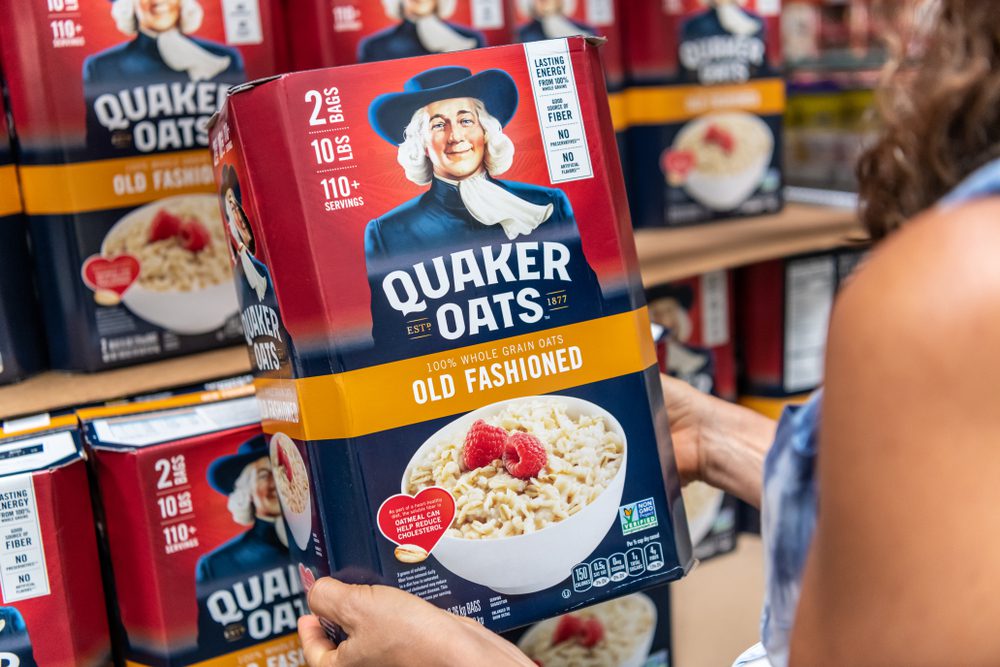 Quaker Old Fashioned Oatmeal, $8 for 10 pounds
We've mentioned oatmeal a number of times in this article. That's because it's a perfect breakfast choice that will keep you full for hours without harmful additives. Costco sells 10 pounds of Quaker Old Fashioned Oatmeal for just $8, meaning you can prep quite a lot of breakfast bowls for next to nothing.
These make the best, creamy, hot bowl of oats you could ever hope for. Sprinkle all the other ingredients we've listed today for a filling, delicious meal to prep you for the day.
Of course, this should not be a weekly addition to your shopping cart, unless you're going through oatmeal like a hot knife through butter. This item could very well last you a whole year!
McCormick Parsley, $4 for 2.5 ounces
2.5 ounces of McCormick Parsley for just $4? If you think buying parsley in bulk is not budget-friendly, think again. A 16-ounce container from Costco costs less than what a HALF-OUNCE container costs everywhere else. How could you pass up such an opportunity?
Remember, dried parsley is one of the most versatile things you can keep in your pantry. From salad dressings to smoothies to virtually any dinner dish you can think of, parsley can be used everywhere. Plus, it's high in Vitamin C, so what's not to love?
The more you'll realize how many recipes can incorporate parsley, the more it'll make sense for you to buy this item.
Amazing Costco deals
What we're trying to get at is the fact that you don't ALWAYS have to buy in bulk from Costco, but when you do you have to make sure that your picks are healthy, delicious, nutritious, and can fit into your budget.
This is why we created this list. Hopefully, with a little bit of perseverance, you can stick to a healthier diet without paying top dollar. Start out with our selection and then find new favorite items. Avoid brand names, wherever you're buying from, and you'll see how your shopping costs will go down.
It's also a good idea to keep an eye out for how much product you're buying so you don't get caught purchasing less for more, especially if the packaging is misleading, as they often are.
P.S.: If you want to save even more, check out these awesome couponing websites!
Related: 12 Smart Tips To Reduce Your Costco Bill
(Visited 435 times, 1 visits today)